Cannabinol (CBN) is a lesser-known compound found in cannabis plants, but it's quickly gaining popularity for its potential benefits in relaxation, sleep, and overall wellness. If you're considering adding CBN products to your wellness routine, you're in the right place. In this blog post, we'll guide you through the top CBN products available, such as CBN gummies, tinctures, and salves, to help you make an informed decision for your wellness journey. People looking to promote deep sleep or those looking for an all natural sleep aid are often interested in cannabinol gummies and oral products because they are all natural.
Introducing the Top CBN Products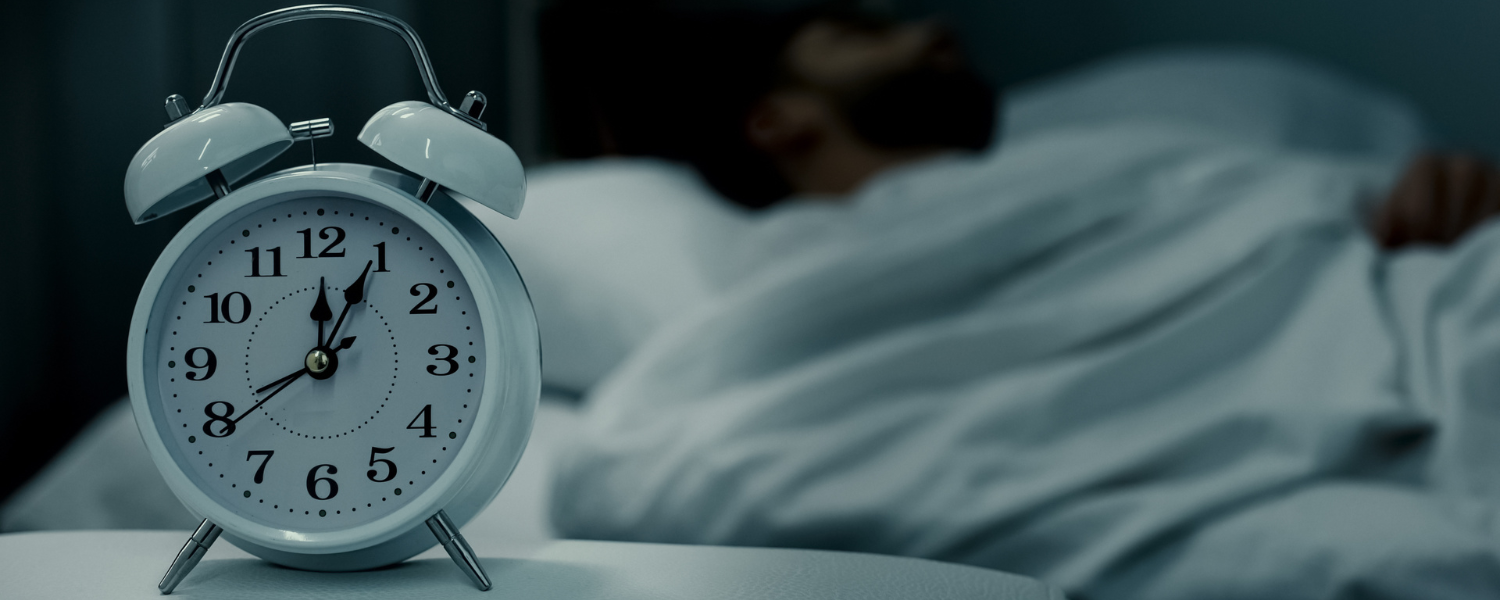 To kick off our exploration of CBN products, here are our top picks in various categories:
Best CBN Gummies for promoting a calmer mind: Yin Yang Infusions' Slumber Sweets
Top-Rated CBN Tincture: Zen CBN Dream Drops with Chamomile
Exceptional High CBN Salve: 4,500mg Full Spectrum Salve
The Best CBN Gummies: Yin Yang Infusions' Slumber Sweets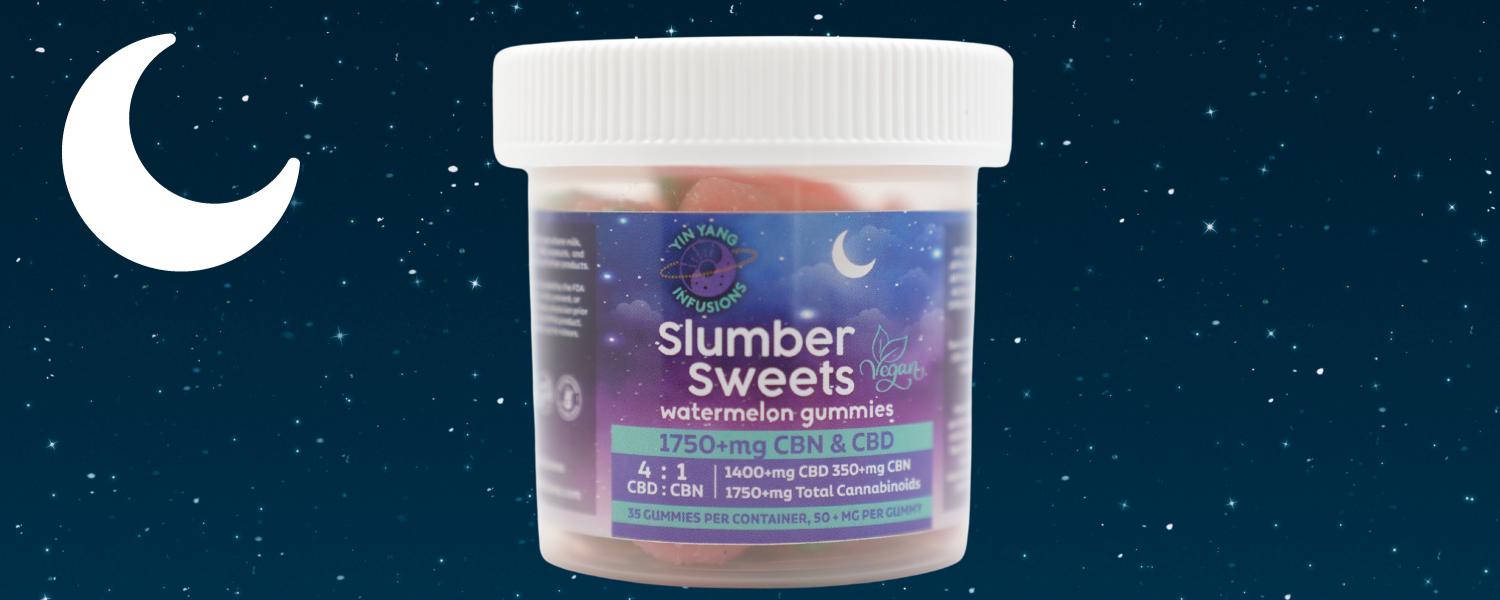 Wondering how many CBN gummies are in each container of Slumber sweets? Our product specifications include a total of 1750mg active cannabinoids, with 35 CBD gummies per container. The CBD to CBN ratio is 4:1, providing 40+mg of CBD and 10+mg of CBN per gummy. These gummies come in a childproof plastic container and have a net weight of approximately 150 grams.
Pros:
Vegan and gluten-free
Handmade in America
Free two-day shipping on orders over $49.99
Price: only $59.99 for 35 day supply breaks down to just $1.7 per dose.
Cons:
May cause sedative effects,
Primarily intended for a good night's rest and nighttime use
Consumption not advisable throughout the day, only at night.
Yin Yang Infusions' Slumber Sweets revolutionize the world of all natural sleep solutions for those in need of restorative rest. These delicious CBN gummies deliver a powerful 4:1 CBD to CBN ratio, offering a balanced experience that amplifies the benefits of both cannabinoids. With around 50+mg of CBD & CBN per gummy, just one gummy can be an ideal choice for a peaceful night's rest.
One of the greatest advantages of Slumber Sweets is their convenience and ease of use. Simply take one of the CBN slumber sweets gummies about 30 minutes to an hour before bedtime, and let the calming effects of CBN and CBD help you drift off to dreamland with the aid of CBN gummies. Bear in mind, due to the sedative effects of cannabinol, these gummies are best suited for rest or evening use. For daytime use, Yin Yang Infusions recommends their CBD & CBG gummy bears.
Rating:
Taste: 4.5/5
Effectiveness: 4.5/5
Value for Money: 4/5
The Top-Rated CBN Tincture: Zen CBN Dream Drops with Chamomile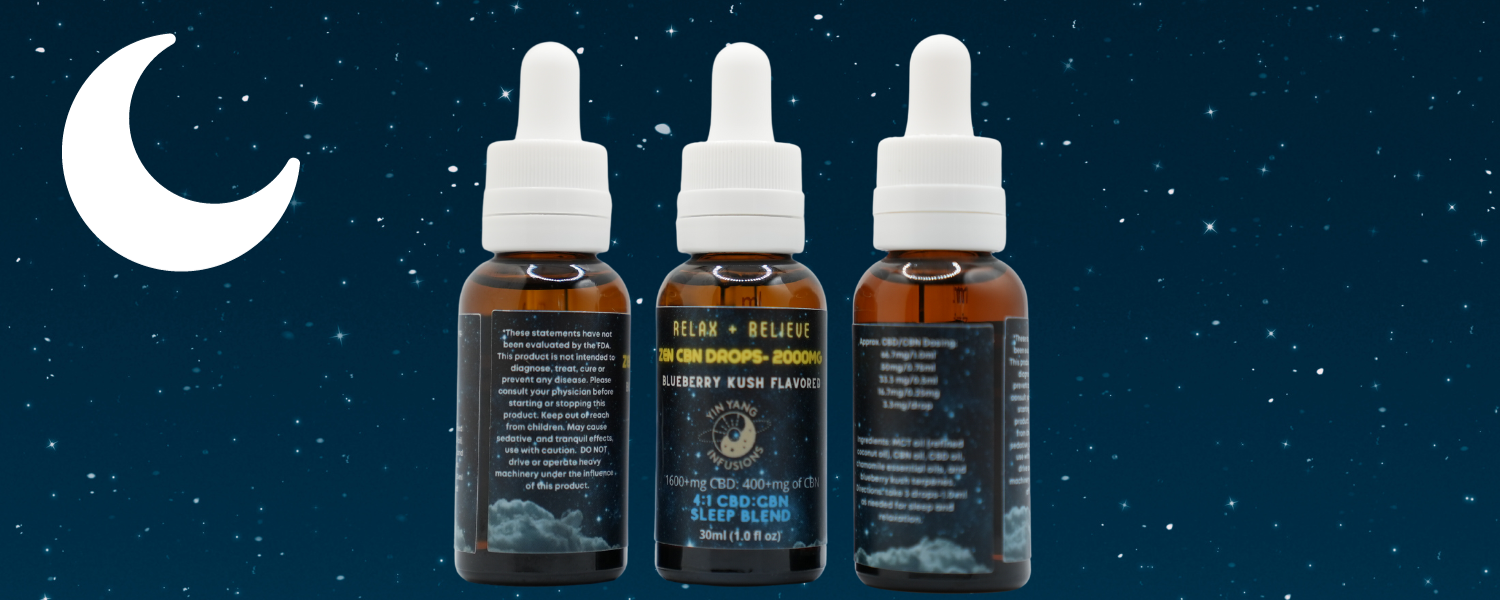 Specifications:
Total Cannabinoids: 2000mg
CBD: 1600+mg
CBN: 400+mg
Pros:
Formulated for nighttime use
Soothing chamomile and blueberry kush terpenes
Chamomile has been shown to be an all natural sleep aid, and help promote a good nights' sleep
Specialized child-resistant dropper for accurate dosing
Price: $59.99, free shipping over $49.99. Breaks down to around only $1.5 per dose
Cons:
May cause sedative effects
Not advisable for daytime use, for daytime use we recommend CBD & CBG tinctures.
Yin Yang Infusions' Zen CBN Dream Drops with Chamomile is a highly acclaimed CBN tincture. It boasts:
2000mg of cannabinoids, including over 1600mg of CBD and 400mg of CBN
Specifically designed for nighttime use
Soothing chamomile and blueberry kush terpenes
Made to help you relax and unwind before bed.
One of the standout features of Zen CBN Dream Drops is the specialized child-resistant dropper, which ensures super accurate dosing. This allows you to easily measure out the desired dose and customize your intake based on your personal preferences and needs. The tincture is made with 100% organic, gluten-free, and vegan-friendly ingredients, ensuring a pure and natural product that you can trust.
Rating:
Taste: 4/5
Effectiveness: 5/5
Value for Money: 4.5/5
Exceptional High CBN Salve: 4,500mg Full Spectrum Salve
Details:
Size: 2oz
Ingredients: Coconut oil, shea butter, frankincense extract, organic essential oils, full spectrum CBD extract
Pros:
Potent formula for stubborn irritation and tension
Organic essential oils, frankincense extract, and all organic ingredients.
Vegan, non-GMO, and free of artificial colors, fragrances, or preservatives
only Price: $54.99, breaks down to around $1 per dose.
Full spectrum salve is high in CBN, CBG, and CBD oil
Cons:
May not be suitable for those with allergies to certain essential oils
The 4,500mg Full Spectrum CBD Salve Enhanced with Essential Oils is a powerful topical salve that provides relief for stubborn irritation and tension, made with organic essential oils and frankincense extract. This potent formula is perfect for those who need targeted relief and offers a multi-targeted approach with its blend of all natural ingredients.
To use the salve, simply apply it directly to the affected area and massage it in gently. The salve is vegan, non-GMO, and does not contain any artificial colors, fragrances, or preservatives, ensuring a product that is both effective and safe for your skin. The full spectrum cbd oil helps make this topical more effective than CBD only hemp derived products.
Rating:
Effectiveness: 4.5/5
Ease of Use: 4.5/5
Value for Money: 4/5
Understanding CBN and Its Benefits
CBN, or cannabinol, is a minor cannabinoid found in the hemp plant and the cannabis plant. CBN is a metabolite of THC. It is more concentrated in mature cannabis plants, as THC oxidizes and decomposes into CBN. Although CBN is less well-known than its counterparts CBD and THC, it has been suggested to possess a range of potential benefits, including:
promoting relaxation and aiding rest
decreasing discomfort and physical irritation throughout the body
Research into cannabinol and hemp is still in its early stages, but the compound has shown promise in a number of areas. Some studies have indicated that CBN may have sedative effects, making it a potential rest aid, while others have suggested that it may have relieving properties and could help alleviate discomfort. Remember, drowsiness is the most common side effect of CBN, so it should be consumed in the evening as part of a natural nighttime routine.
With its unique properties and potential benefits, CBN is certainly worth considering as part of a well-rounded night time routine. Whether you're looking for relaxation, night time support, or relief from discomfort, cannabinol may be an effective addition to your regimen.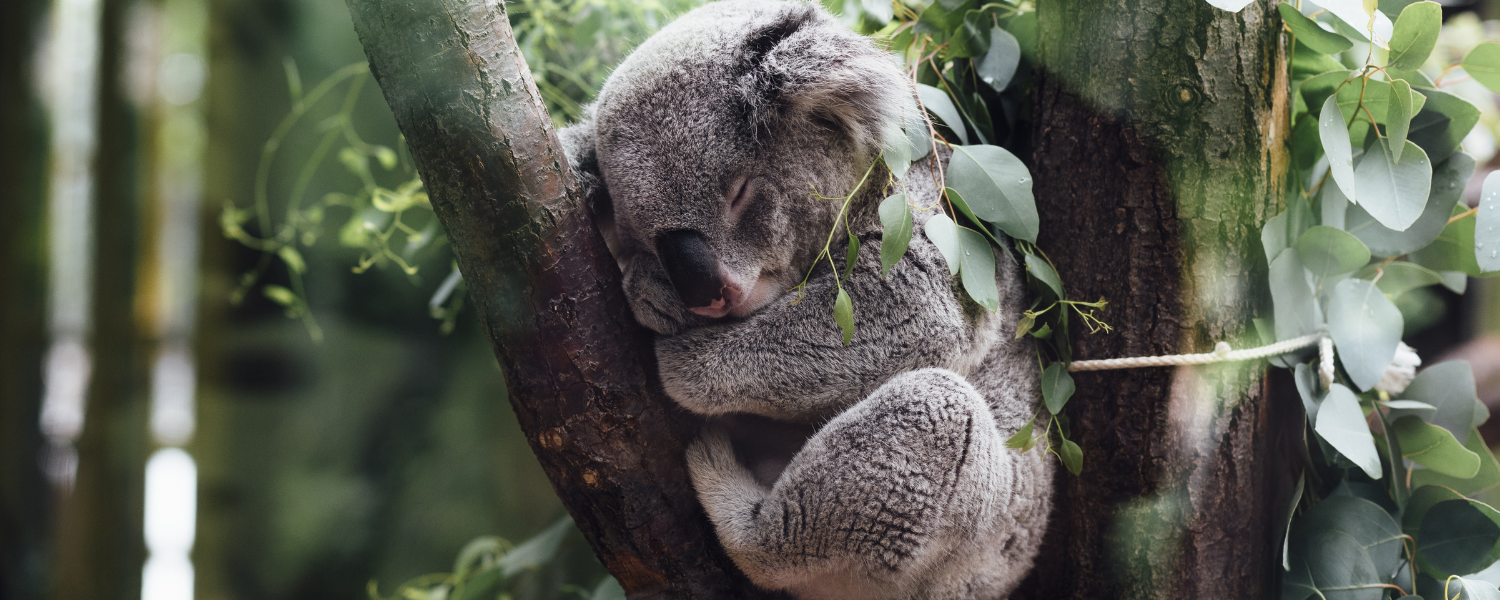 Choosing the Right CBN Product for You
Several factors come into play when choosing a CBN product. Primarily, verifying the product's quality and its origin from trusted sources is vital. Look for products that have been third-party lab tested and come from brands that adhere to safety regulations.
Next, consider the type of product you're interested in. There are a variety of CBN products on the market, including buy CBN gummies, tinctures, salves, and creams.
Each product has its own unique benefits and applications, so choose one that aligns with your needs and preferences. For example, if you're looking for a sleep aid, a CBN gummy or tincture may be more suitable than a salve.
Finally, consider the dosage of cannabinol in the product. It's important to start with a low dose and gradually increase as needed to find the optimal amount for your needs. Consult with your physician or a qualified healthcare provider to determine the best dosage for you, especially if you are taking prescription medications or have pre-existing health conditions.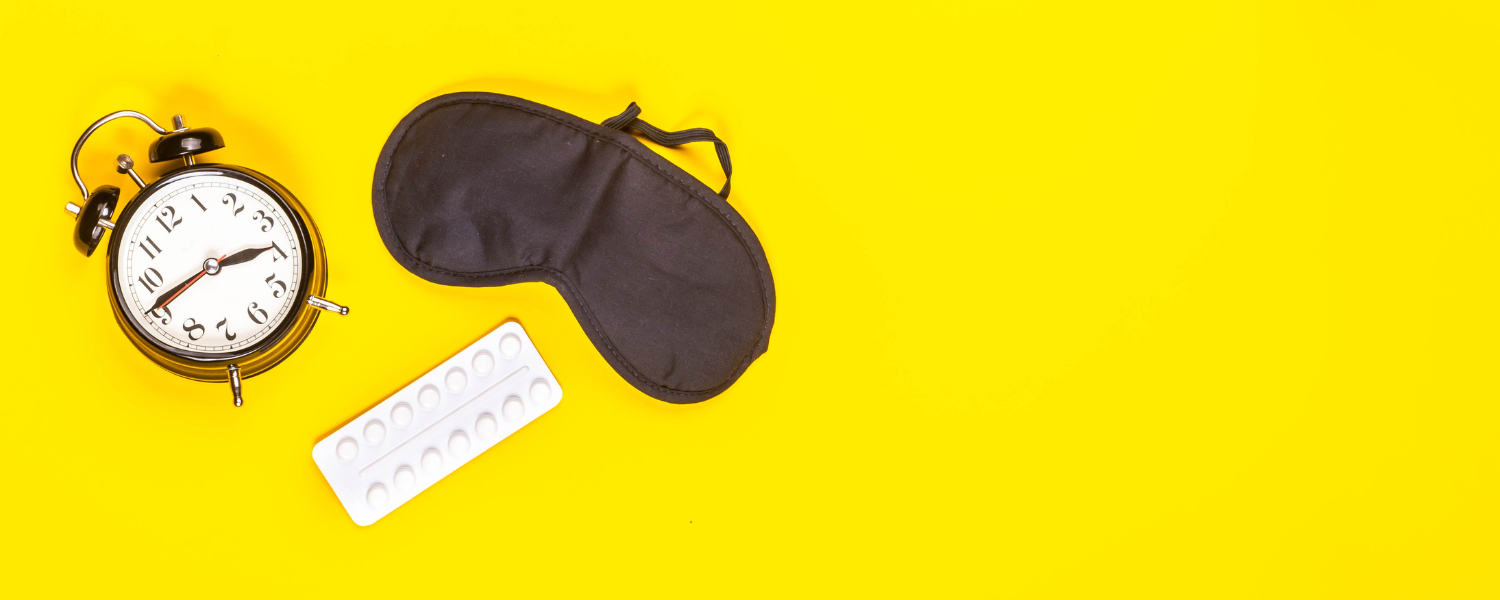 Ensuring Product Quality and Safety
To ascertain the quality and safety of your chosen CBN products, seeking third-party lab testing, customer reviews, and trustworthy brands is crucial. Third-party lab testing is crucial for guaranteeing transparency and safety for customers, as it provides a certificate of analysis for CBN products, demonstrating the terpenes and cannabinoids present and their concentrations.
In addition to lab testing, customer reviews can provide valuable insights into the effectiveness and overall quality of a product. Look for products that have positive feedback from users who have tried the product firsthand and can attest to its benefits, especially in cases where a drug test is involved. It is currently unknown whether or not CBN would cause a user to fail a drug test for traditional cannabis. Those who are worries should air on the side of caution and try to avoid CBN products, especially consumables like CBN gummies and CBN tinctures.
Finally, choose CBN products from reputable brands that have third-party tested products with accompanying lab tests. This ensures that you're getting a product that meets high standards for quality and safety, and that you can trust as part of your wellness journey. Additionally, understanding how CBN binds to receptors in the body can help you make an informed decision about which products to choose.
How to Use CBN Products Effectively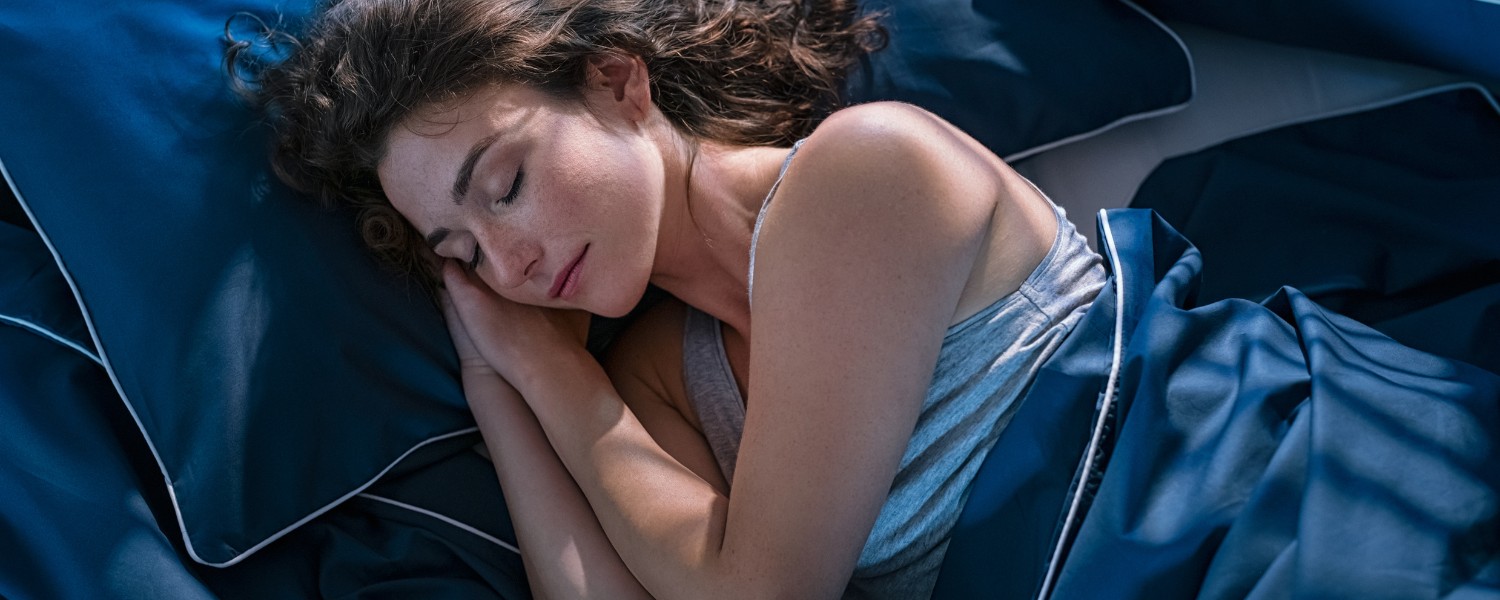 For optimal results from your CBN products, effective usage is key. Here are some guidelines to follow:
start with a smaller dose and incrementally increase until you find the amount that suits your needs best.
For promoting rest and managing discomfort, a recommended starting point is 1mg of CBN per 10lbs of body weight.
You can always take more CBN but you can never take less, so start low and go slow!
The method of consumption can also impact the effectiveness of CBN products. For example, sublingual ingestion (placing a drop of CBN tincture under the tongue) can lead to faster absorption and onset of effects, while topical application (applying a CBN salve directly to the skin) can provide targeted relief for specific areas.
Lastly, proper storage is essential for preserving the potency and freshness of your CBN products. Store your CBN products in a cool, dry place away from direct sunlight, and always make sure to tightly close any containers or bottles after use. Following these tips can help you maximize the benefits and ensure a positive experience with CBN products.
CBN take aways
CBN is an exciting and promising compound that offers a range of potential benefits for promoting relaxation, sleep support, and overall wellness. With a variety of CBN products available, including gummies, tinctures, and salves, you can find the perfect product to suit your needs and preferences.
As you embark on your wellness journey with CBN, remember to choose products that are high quality, safe, and effective, and follow the tips in this blog post to ensure you're using them effectively. With the right product and proper use, CBN may just become an essential addition to your wellness routine.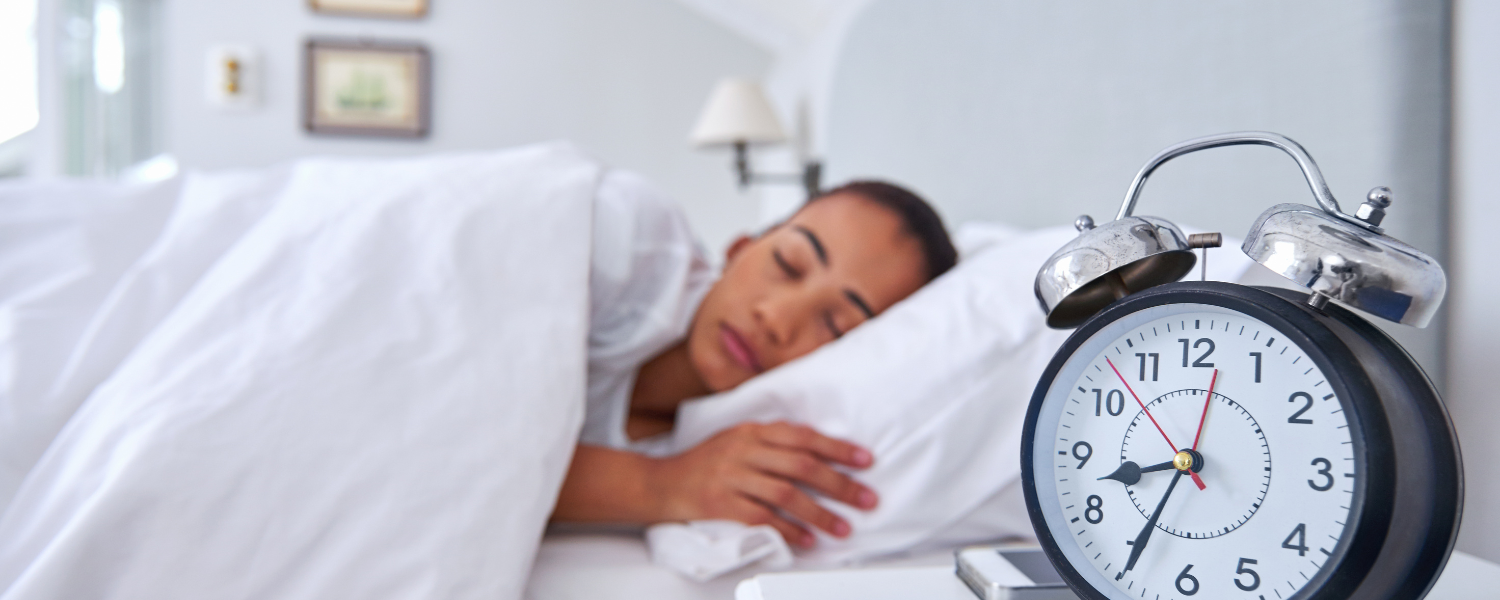 Frequently Asked Questions
What do CBN gummies do?
CBN gummies offer sedative properties that could potentially help users fall asleep faster and stay asleep throughout the night. Additionally CBN may provide relief from conditions like muscle discomfort. CBN gummies could be beneficial as an all natural supplement for supporting sleep quality and overall mental health.
Is CBN more powerful than CBD?
CBN is more effective than CBD and CBG for promoting a good night's rest due to its stronger sedative properties. It contains a fraction of the potency of THC, and can produce mild psychoactive reactions when taken in larger doses. Therefore, CBN is generally considered to be more powerful than CBD.
Does CBN make you tired?
CBN has been linked to sleep due to its sedative effects, and is believed to be around substantially mor sedative than CBD oil. Research and anecdotal evidence suggests that CBN makes people feel relaxed and drowsy, and may help induce a dream like state.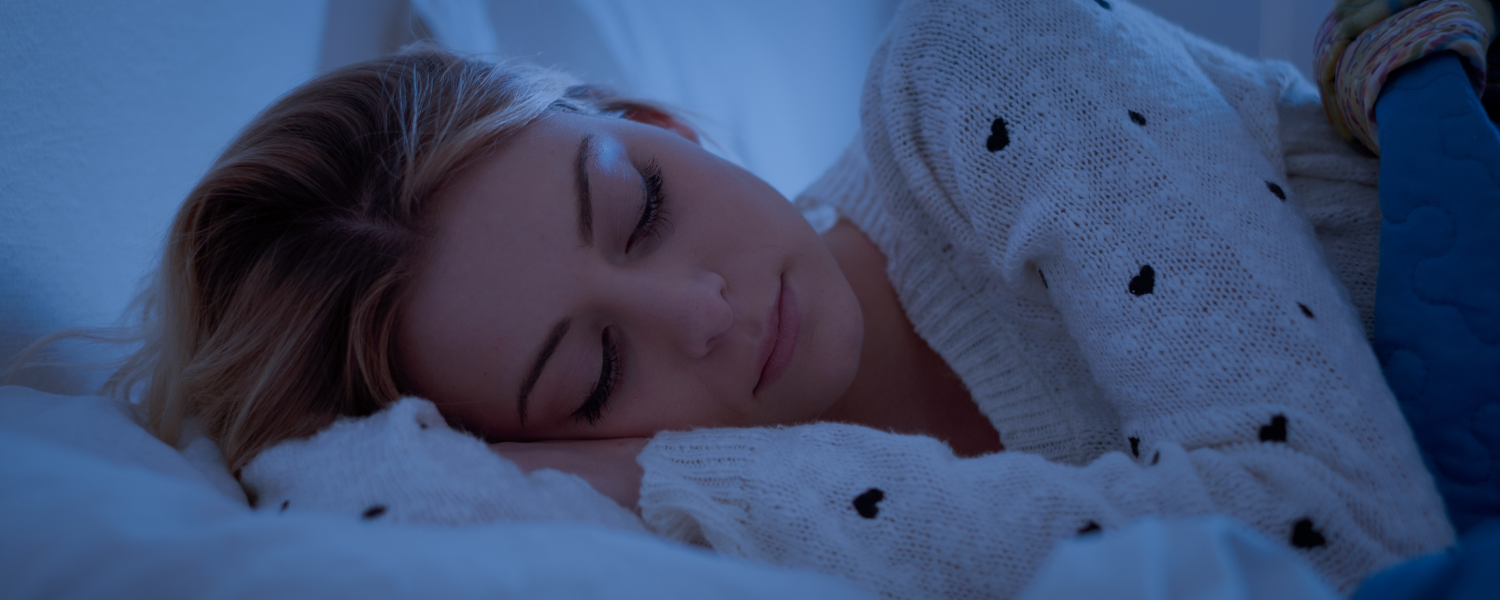 Does CBN work for Stress?
Research suggests that CBD may have the potential to reduce stress, while CBN is thought to be helpful for rest, appetite, and treating discomfort. However, more research is needed to fully understand the potential benefits of both CBD and CBN. Speak with your healthcare provider before beginning to take either CBD or CBN.
What's the difference between CBD and CBN gummies?
CBD and CBN are both cannabinoids found in hemp plants and cannabis, but their effects differ. CBD is non-psychoactive whereas CBN is mildly psychoactive and can produce mild psychoactive reactions, though it is around 90% weaker than THC. CBD has been studied more extensively for Stress, and discomfort, while CBN is thought to be more helpful for promoting a good night's rest, appetite, and treating discomfort.
Where does CBN come from?
CBN or cannabinol is an interesting new cannabinoid discovered in the marijuana plant. It is best known for being the cannabinoid that is created when THC ages. As research is still very limited, effects of the human body are still being explored. One thing we do know- CBN is usually present in high amounts in older cannabis due to the way it is created via the oxidation of THC and people are starting to take note. But fear not, you don't need to smoke old aired cannabis to try the effects of CBN! CBN is mildly psychoactive compared to its parent molecule THC, however people commonly report feeling incredibly relaxed and sedative effects from taking CBN orally. Due to the commonly reported sedative properties of CBN, most users feel it is best used at night time to help with rest, or in low doses during the day for cases of stress where CBD oil is not sufficient.
What are the effects of CBN?
Yin Yang Infusions created Zen CBN Dream Drops with your rest in mind. At 4:1 CBD to CBN there are 1600+mg CBD and 400+mg of CBN per bottle, formulated with chamomile and blueberry kush terpenes for a pleasant floral flavor as well as relaxing and tiring effects. These plant based ingredients make a perfect blend for slumber, and relaxation, and are frequently reported to cause sedative effects. Yin Yang Infusions' dream drops are 100% organic, gluten free, and vegan friendly, made with all natural ingredients. The cannabinol tincture comes with a specialized child resistant dropper with measurements for super accurate dosing. We suggest taking a few drops- 0.25ml in the evening before bed to test the effects, with CBN a little bit goes a long way! Remember that CBN gummies and hemp derived products are not approved or evaluated by the food and drug administration, so as a consumer it is crucial to do your research on any manufacturer you are considering. CBN and other cannabis products are praised for being all natural, which many consumers prefer in today's society.
Where can I buy just CBN online?
Meet a new CBN product- Yin Yang Infusions CBN isolate. This CBN isolate is a great way to try out cannabinol and see its direct effects on your body. It is THC free and it is derived from the hemp plant grown domestically with no pesticides or additives. Using isolate, you can isolate the effects of CBN on yourself without any THC or CBD involved.
Does CBN make you tired?
Based off annecdotal evidence, we are being told that CBN is terrific for night time use and supporting rest! Users are reportedly taking CBN tinctures 30 minutes to one hour before sleep to help support a faster and deeper nights' rest. CBN has become incredibly popular for its strong and distinctive sedative effects. One major reason why people love CBN compared to other supplements, is because CBN is 100% natural, and plant based, rather than being synthetic or chemically produced. Hemp derived products like CBN gummies and CBD gummies are becoming increasingly popular for consumer looking for all natural regimens.
These statements have not been evaluated by the FDA. This product is not intended to diagnose, treat, cure, or prevent any disease. Consult your physician before using this product.