CBD Oil For Dogs: 8 Ways CBD Can Help Your Dog
I am always eager to improve my own wellness through natural holistic approaches, and the same goes for my beloved dogs. As someone who has found great relief using CBD, I started to research how it could help my dogs.
When I learned about the benefits of CBD oil for dogs, it all made sense! Of course, CBD can help improve the quality of life in a dog because they too, have an endocannabinoid system! There's no doubt that consuming CBD is great for a wide range of wellness needs that can benefit your pet's health.
8 Ways CBD Hemp Oil Extract Can Support Your Dog's Wellness
We all want to give our pets the best so they can live long, healthy lives as our unconditional, loving companions. When your pet's wellness and longevity start fading, high-quality CBD oil tinctures or CBD dog treats can provide therapeutic benefits to improve your pet's quality of life.
Have you thought about giving CBD to your dog? Here are 8 ways it can help:
#1 Mobility and Discomfort
Pets can hide pain very well, so it can be a bit tricky to understand what is best for them when they are not 100%. If your pet is experiencing some discomfort or a diminished range of mobility, CBD may support your pet in getting back on track in addition to other therapies. Always consult with your veterinarian if you suspect something is wrong with your dog. Ask your vet if dog CBD oil can be given to your pet to help reduce discomfort and support their general wellness.
#2 Injury and Recovery Support
If your pet is injured or unwell, they may try to avoid certain activities, show lower energy levels, sleep more, eat less, and show a heightened sensitivity. If your pet is recovering from an injury or could use a wellness boost, a dose of CBD a day through CBD treats or a CBD oil tincture may be a great option for starting your dog on a CBD routine. A few servings a day can bring them comfort when they need it most.
#3 Aging and Slowing Down
It can be heart-wrenching to watch your furry family member slow down. If your dog is getting up there in age, CBD oil can help improve their quality of life. CBD and other cannabinoids in hemp extract support your pet's endocannabinoid system to help regulate appetite and immune response and relieve discomfort. Pet CBD oil can bring comfort to aging joints and support overall wellness.
#4 Appetite support
If your dog is having appetite issues, evidence shows full spectrum CBD oil has the potential to help regulate appetite. Cannabinoids in the hemp plant may also help relieve symptoms associated with the issue causing appetite loss. Talk to your vet about your dog's diet and appetite. There could be many reasons why your pet in not showing interest in their food. If appetite is an issue for your pup, ask your vet if incorporating small doses of CBD tincture in your dog's daily routine can support their recovery process.
#5 Restlessness
One of the most popular uses of CBD oil tinctures in humans is for soothing restlessness and aches. CBD has the same benefits for pets in this manner. Sometimes, the dogs restless energy can be soothed with CBD. If your dog is anxious about loud noises or new people coming over, CBD can help them relax and maintain a sense of calm.
#6 Separation Issues and Stress
It's so hard to leave your pet when you know it sends them into a frenzy of stress and sadness. If your dog is particularly sensitive and has trouble soothing themselves when they are alone, hemp extract may be helpful. Many people utilize pet CBD products to help soothe their pet's separation stress.
#7 Calming support for car rides
The car is dreadful for some dogs, but there is no way around it. When you have no choice but to travel with your pup, a serving of CBD can help them relax and rest to make the drive much easier on them and you!
#8 End-of-life comfort care
CBD oil is prized for its wellness benefits, and it can be effective for providing comfort and ease to dogs at the end of life. Hemp extract CBD oil tinctures can be administered to animals to comfort them when their bodily functions give up, and life comes to a close. Talk to your vet about giving your pet CBD oil to reduce discomfort.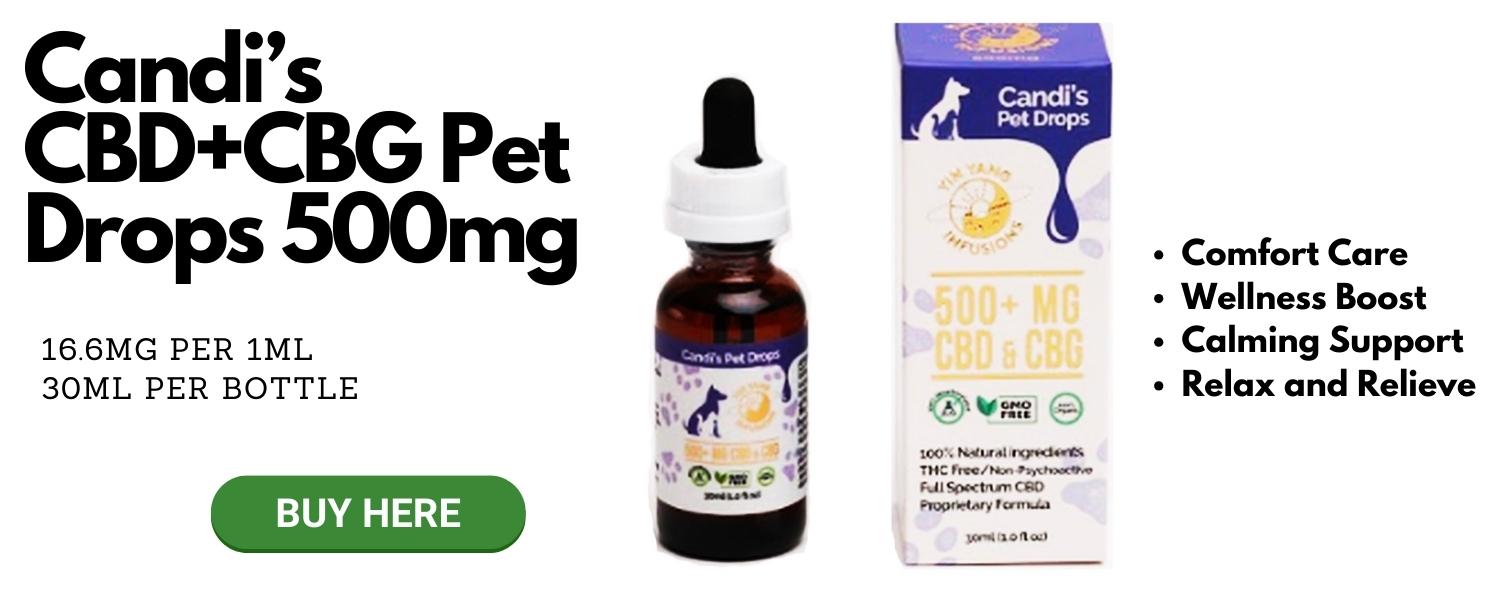 Choosing the Best CBD Formula for Your Dog
If you surf the web for CBD, there are so many CBD products to choose from. How do you know what's best and what potency is right for your dog? Pet owners have a lot to learn and consider, but you have come to the right place. We will save you time and cut to the chase.
The best CBD products for dogs: Yin Yang Infusions Organic CBD Oil for Pets
Yin Yang Infusions makes the best CBD oil for pets. Why? Because our formula is high quality, pure and simple.
Organically grown hemp plants: High-quality extracts can only come from organic hemp. No pesticides ever are used in the growing process to ensure our extracts are pure and natural.
Full Spectrum CBD and CBG Formula: Our organic CBD oil is a full spectrum extract with CBD + CBG and plant compounds for better results than CBD alone.
THC Free pet tinctures: THC is toxic to dogs. Most hemp extracts contain small traces of THC; however, our pet CBD products do not. We take extra care and caution isolating CBD, CBG, and other beneficial plant compounds, leaving the THC out for maximum therapeutic benefit.
Third-party lab tested: We put our hemp extracts through extensive testing to ensure the purity and consistency of our formulas from the plant to the final product in your bottle.
Candi's CBD+CBG Pet Drops 500+mg
Our Full Spectrum Pet CBD + CBG oil is suitable for small, medium, and large animals with moderate to severe issues. Our CBD oil tinctures are made with MCT oil to effectively deliver each dose of cannabinoids with healthy fats for better absorption. We do not add flavoring agents to keep our formulas all-natural. Give to your dog before or after a meal. You can simply mix the CBD oil into a treat or administer it directly into your pet's mouth.
How Much CBD Oil Should I Give My Dog?
The amount of CBD you should give your dog depends on your dog's weight and condition. The dose and frequency may be adjusted depending on the condition and whether your dog's symptoms are mild or severe. Talk with your vet to to discuss what is best for your pet's wellness.
CBD for Dogs Dose per Weight
5mg for dogs 15-20lbs
10mg for dogs 35lbs+
25mg for dogs 70lbs+
50mg for dogs 100lbs+
Best way to administer CBD to your Dog?
Our pet tinctures can be easily mixed into a treat or given under the tongue. We don't recommend adding CBD oil to their bowl of food as it will dilute the effects when eaten with a meal. You can put your dog's CBD oil on a small amount of dog food and let the CBD oil absorb into it or give your dog a CBD treat like these: Candi's CBD+CBG Peanut Flavored Dog Treats.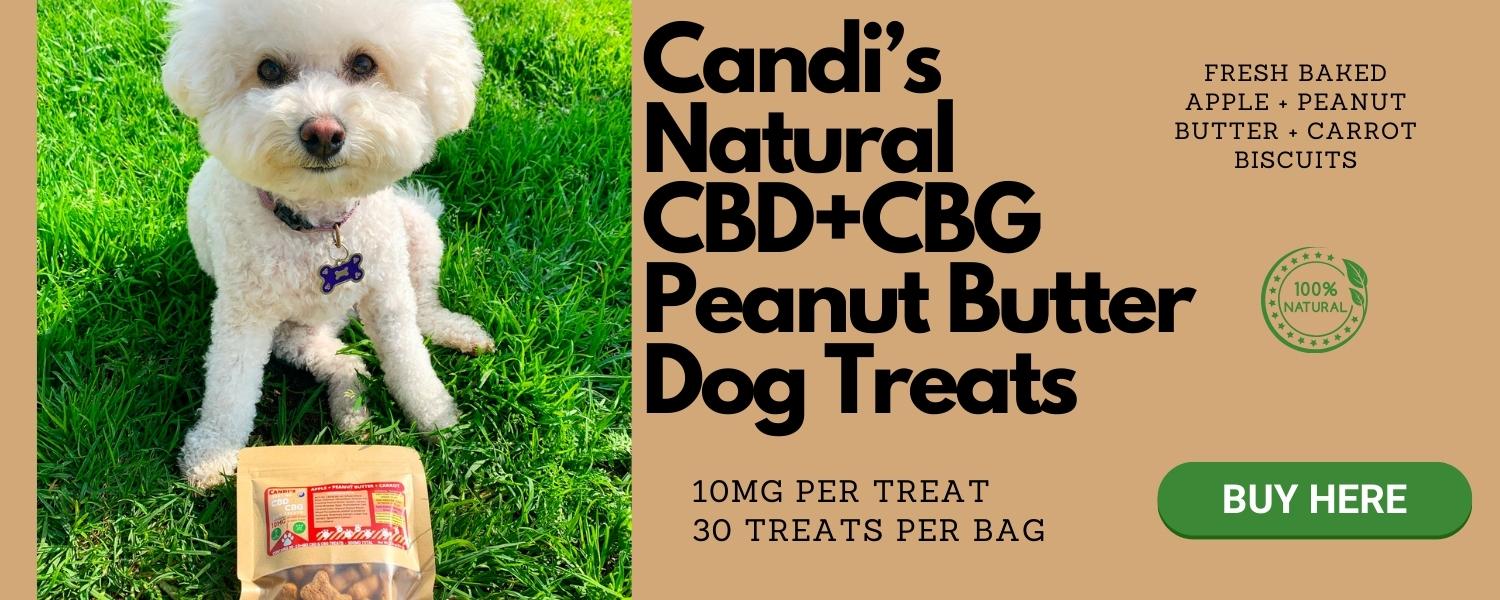 Making High-quality CBD products to support natural living and functional wellness is what we specialize in. Our hemp-derived CBD formulas can help you and your pets relax and relieve!